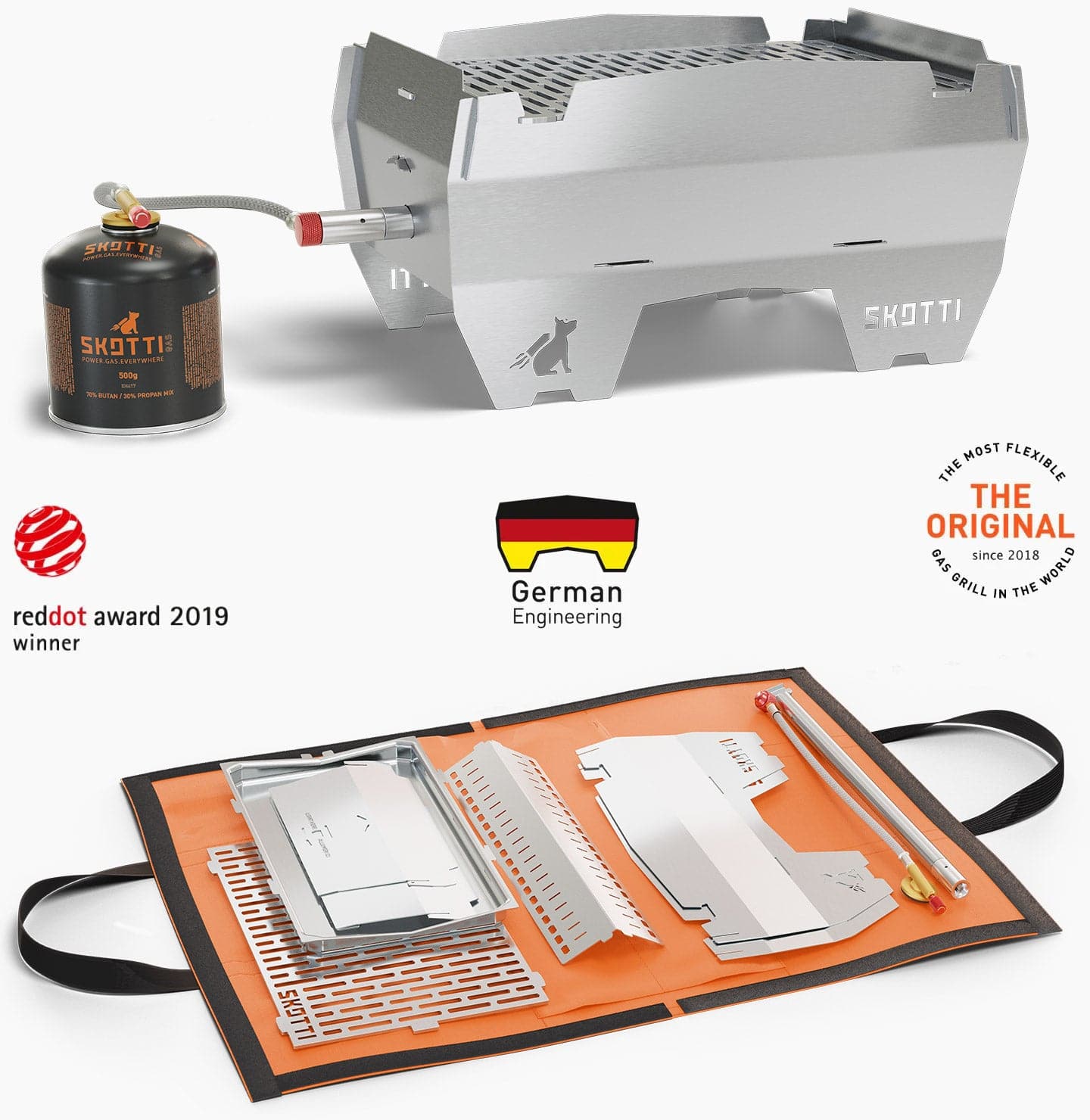 SKOTTI - PORTABLE GRILL
Regular price
$199.00 USD
Regular price
Sale price
$199.00 USD
Unit price
per
Sale
Sold out
Share
View full details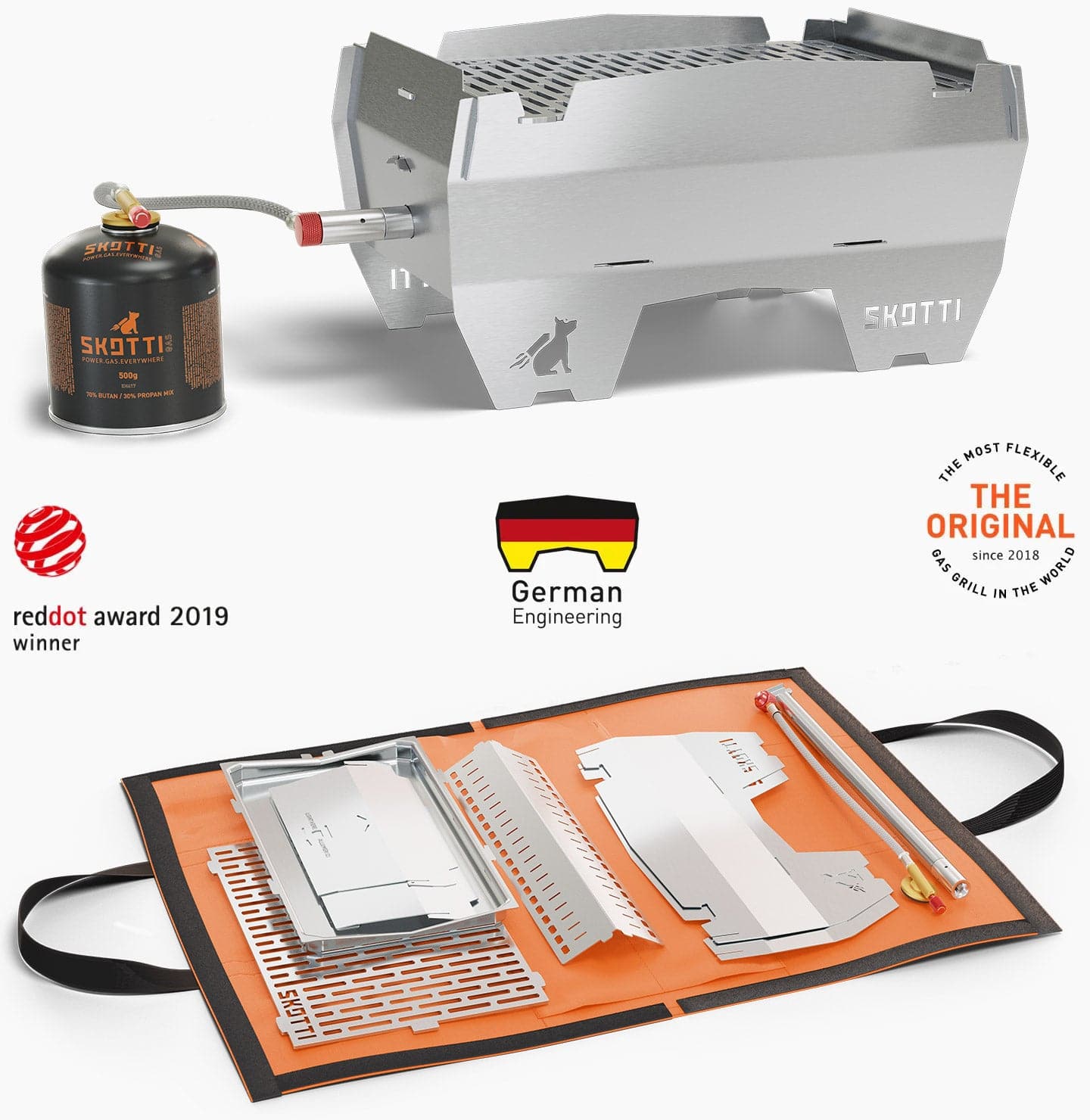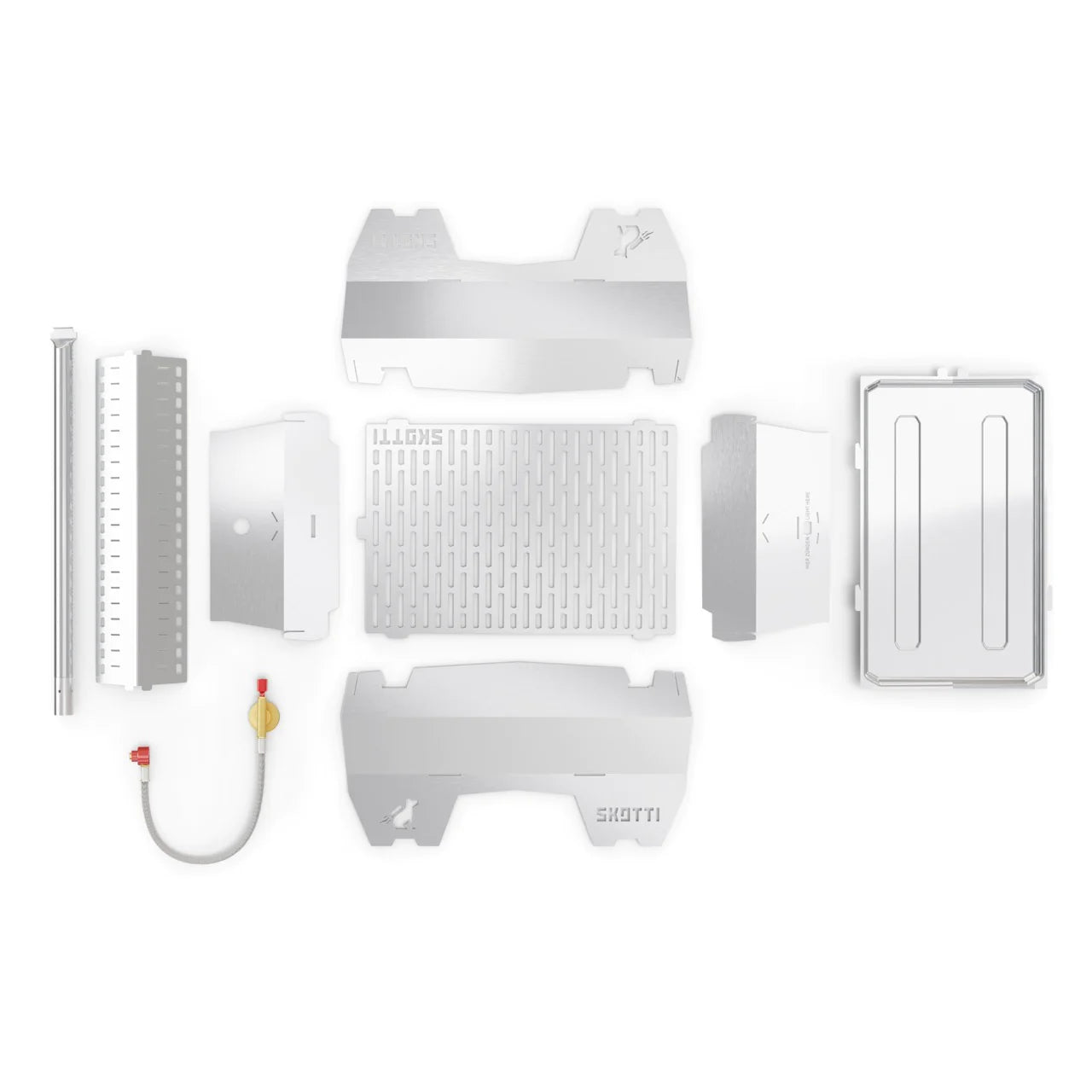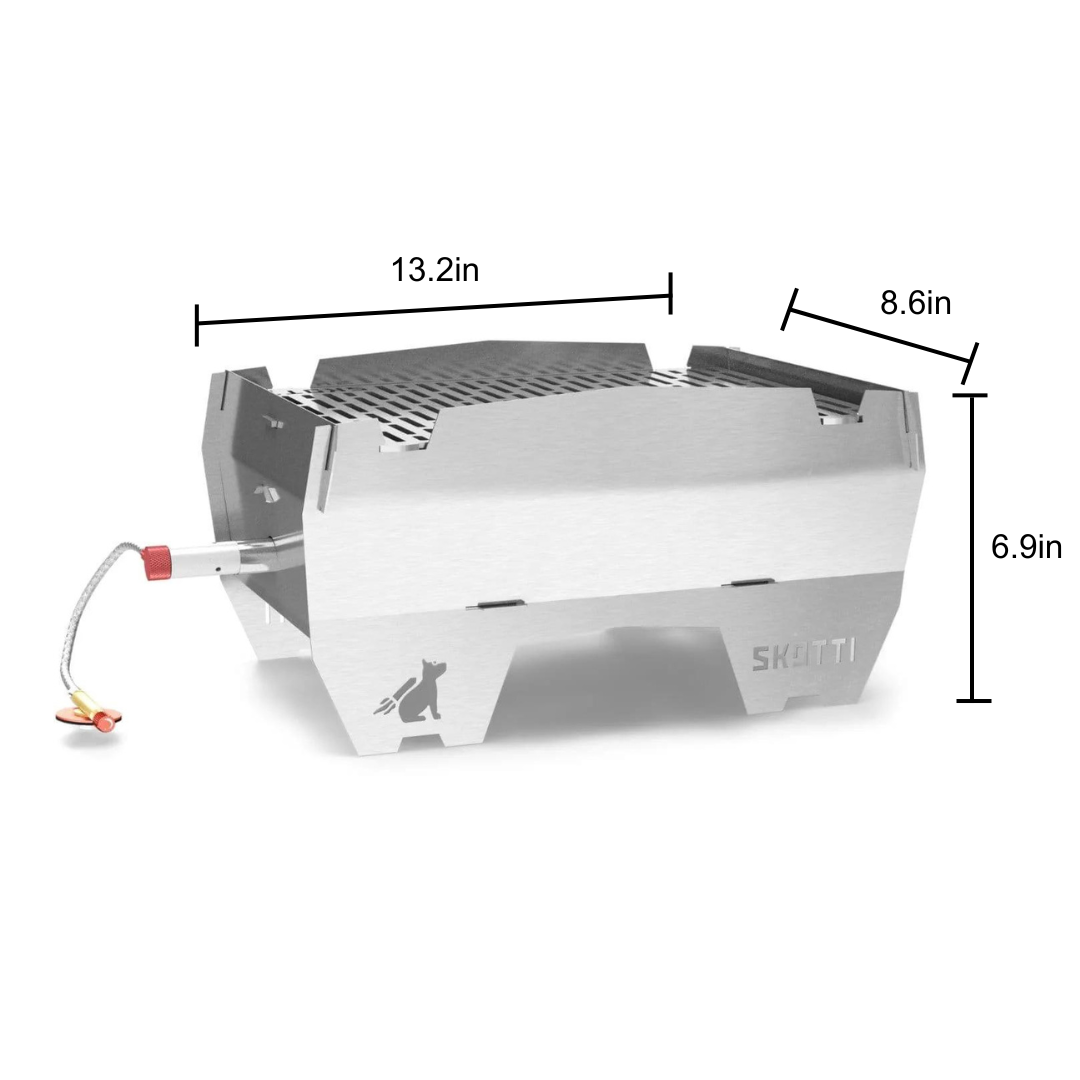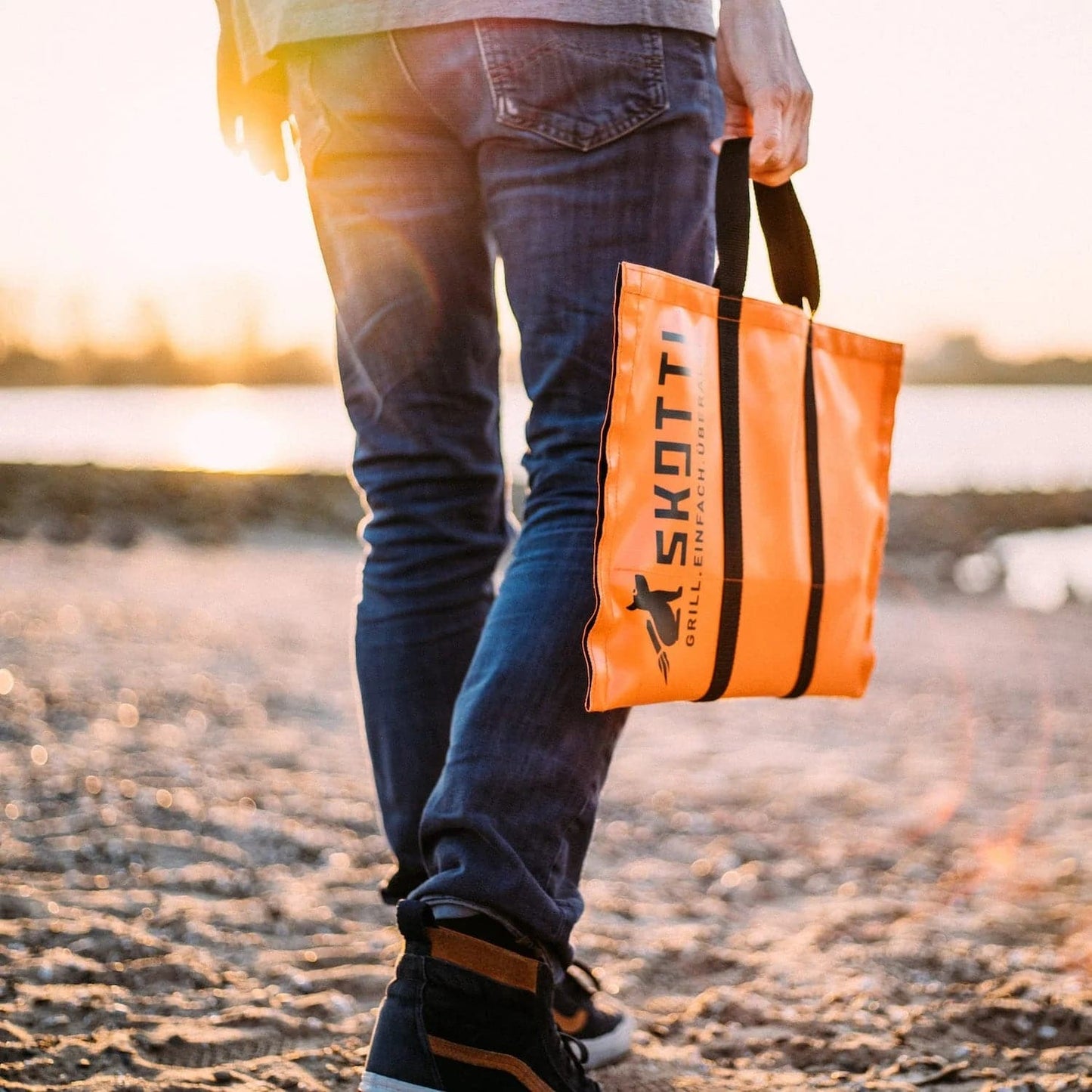 OUR CAMPING GASGRILL CHANGES EVERYTHING
SKOTTI is the world's first fully collapsible gas grill - portable, powerful and so easy to handle. We promise you will never want to use another grill ever again!
Discover our SKOTTI
SkOTTI Advantages
EASY TO CARRY & FULLY COLLAPSIBLE

EASY TO CLEAN & QUICK TO COOL DOWN

SECURELY & QUICKLY ASSEMBLED

INFINITE POSSIBILITIES

FULLSIZE GAS GRILL

DURABLE & HIGH QUALITY
Let customers speak for us
Gas, Charcoal, Wood
SKOTTI offers you complete freedom when it comes to your fuel source!
FAQ
HOW HEAVY IS SKOTTI?

Skotti is so lightweight, it makes a feather jealous! It weighs just 6.6 pounds, which is basically the same as carrying around a bag of marshmallows. And when it comes to packing it up, it fits snugly into a 6.6-gallon backpack, leaving plenty of room for all your other essentials, like your favorite pair of hiking boots and your secret stash of beef jerky.
WHICH GAS DO I NEED FOR SKOTTI?

A standard isobutane canister, which will last depending on size up to 6 hrs. There are also adapters available in the market to directly connect to the propan green bottles. The choice is yours!
WHAT IS THE MAXIMUM TEMPERATURE WHEN RUNNING SKOTTI ON GAS?

In the summertime, we're talking temps up to 600 degrees Fahrenheit! In the winter, things get a little more complicated, and it all depends on the temperature outside and which gas you're using. And if you really want to maximize your heat and minimize your gas usage, don't forget to use our SKOTTI Cap! It's the ultimate accessory for any serious outdoor cook.
HOW LONG DOES IT TAKE TO SET UP? AND DO I NEED ANY TOOLS?

SKOTTI is your perfect Camping gasgrill! With its easy assembly system, you'll have it up and running in just one minute flat - no tools required! That's right, you don't need a fancy toolkit or a degree in engineering to get this assembled. Just set it up, light it up, and get ready to grill like a true pro!
HOW QUICKLY DOES IT COOL DOWN?

Skotti is made entirely of stainless steel and built to last. And when it's time to pack up and head home, you'll love how quickly it cools down - just 20 minutes, tops! After that, you can pack it right back up into its own handy carrying bag, ready for your next adventure...
HOW DO I CLEAN SKOTTI?

Cleaning up after your outdoor feast is a breeze with Skotti. Burnt-on marinade stains? No problem, just use normal soap pads. For even easier cleanup, throw Skotti (and its bag!) in the dishwasher. It's quick, convenient, and just what you need after an day of fun!