Regular price
$199.00 USD
Regular price
Sale price
$199.00 USD
Unit price
per
Sale
Sold out
In stock
Introducing the SKOTTI Grill – Your portable grill for ALL adventures
SKOTTI Grill is a versatile, powerful & portable gas grill that redefines the concept of outdoor cooking. With its exceptional features and benefits, it's the perfect cooking tool for adventurers, hikers, campers, and anyone seeking an unforgettable grilling experience.
Fully Collapsible & Portable Grill
SKOTTI Grill is completely collapsible: It is made out of 9 separate stainless steel pieces that pack flat into the tarp bag that comes with the grill. In combination with its light weight of only 6.6 lbs, this makes the SKOTTI Grill a perfect portable gas grill for any outdoor adventure – use it as a camping grill, take it with you on a fishing trip or simply make a quick BBQ in your backyard after work – the possibilities are endless!
Quick and Convenient Assembly
You might think that its multi-part makes it hard to set up – you couldn't be more mistaken! After a few times trying, you'll be able to set it up in less than a minute. Fire up the grill and you'll be ready to go in another 2 minutes, allowing you to spend more time enjoying your favorite outdoor activities. Whether you're on a hiking trip or embarking on other adventures, this swift setup ensures you won't miss a beat.
Freedom: Choose your fuel source
While the SKOTTI Grill is a gas grill, it is not just limited to one fuel source. While it excels as a gas grill, it can easily be used with charcoal or wood. For that, simply leave out the burner pipe and radiation plate, fill the bottom of the grill with some dirt of sand and fill it up with charcoal or wood.
Effortless Cleaning
We understand the importance of easy maintenance, which is why the SKOTTI Grill is a breeze to clean. All nine individual parts are dishwasher-safe, ensuring a thorough and convenient cleaning process. Say goodbye to the hassle of scrubbing and let the dishwasher do the work, providing you with more time to relish your outdoor experiences.
Powerful Performance
Don't let its compact size fool you; the SKOTTI Grill packs a powerful punch. With an impressive 8500 BTU/h, this portable gas grill ensures you to achieve exceptional outdoor grilling results.
Embrace the spirit of adventure with the SKOTTI Grill, the ultimate companion for outdoor enthusiasts. Whether you're on a thrilling hike, camping in the wilderness, fishing by the lake, car camping with friends, exploring in an RV, or tailgating before the big game, the SKOTTI Grill will make your experience worthwhile Get ready to savor delicious meals in the great outdoors with this remarkable portable gas grill.
DUE TO REGULATION, THE GAS CANISTER IS NOT INCLUDED IN THE DELIVERY PACKAGE AND HAS TO BE BOUGHT SEPARATELY!
Be sure to use a butane/propane mix (70% butane/20% propane). You can buy them at many dealers, e.g.:
Amazon
Walmart
Homedepot
REI

Product Details

Material: stainless steel (type 304)
Grill Body Thickness: 0.04 in/1mm
Grill Grate Thickness: 0.12 in/3mm
Dimensions: 13.2 x 8.3 x 6.9 in
Weight: 6.6 lbs
Fuel Type: Butane/Propane Mix
Power: 8530 BTU/h
Shipping Information

Shipping Cost: Free (for orders $99+)
Delivery Time: 4-5 days
Scope of delivery: SKOTTI Grill, Tarp Bag
The gas canisters are NOT included in the shipment
Share
View full details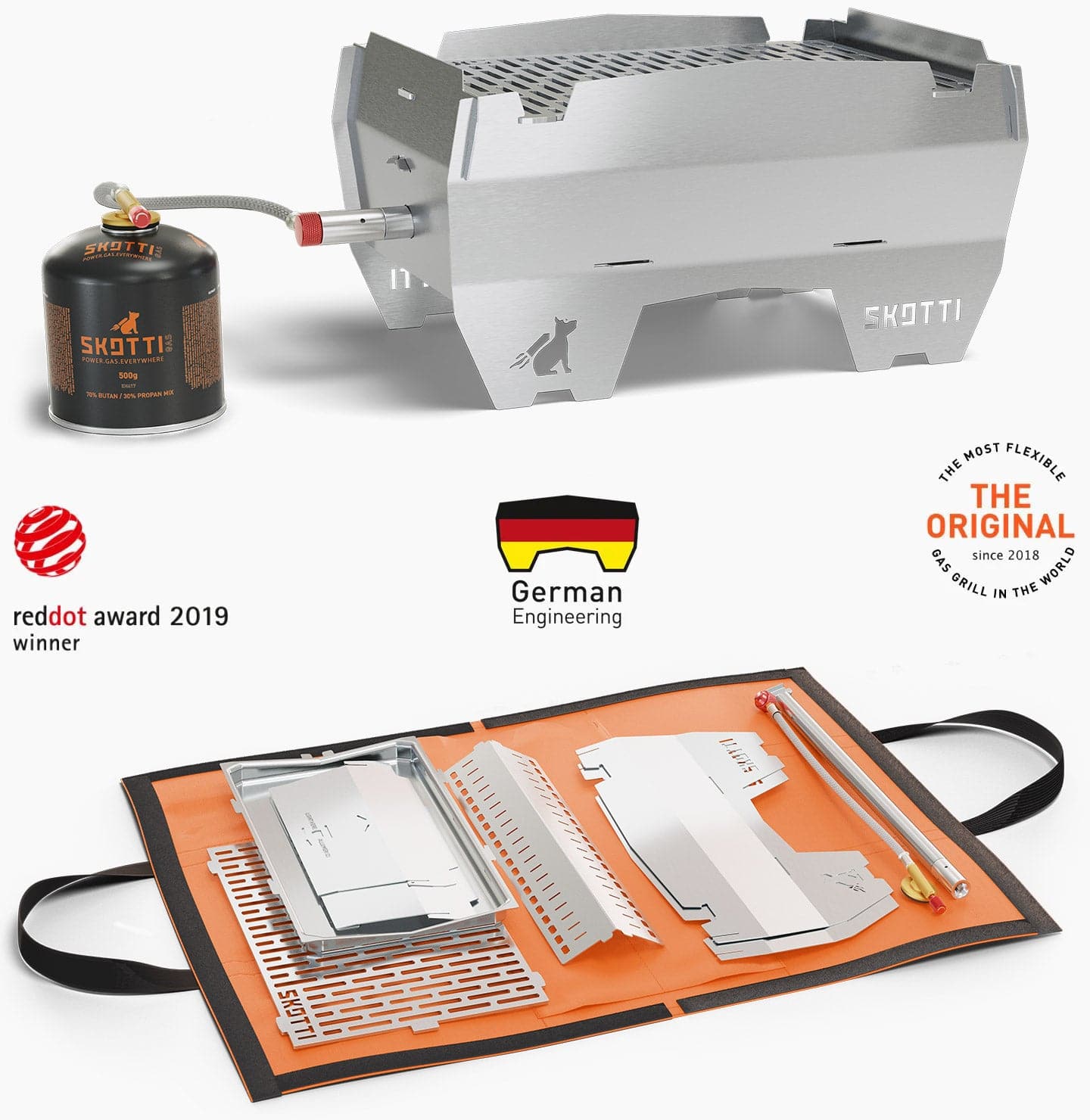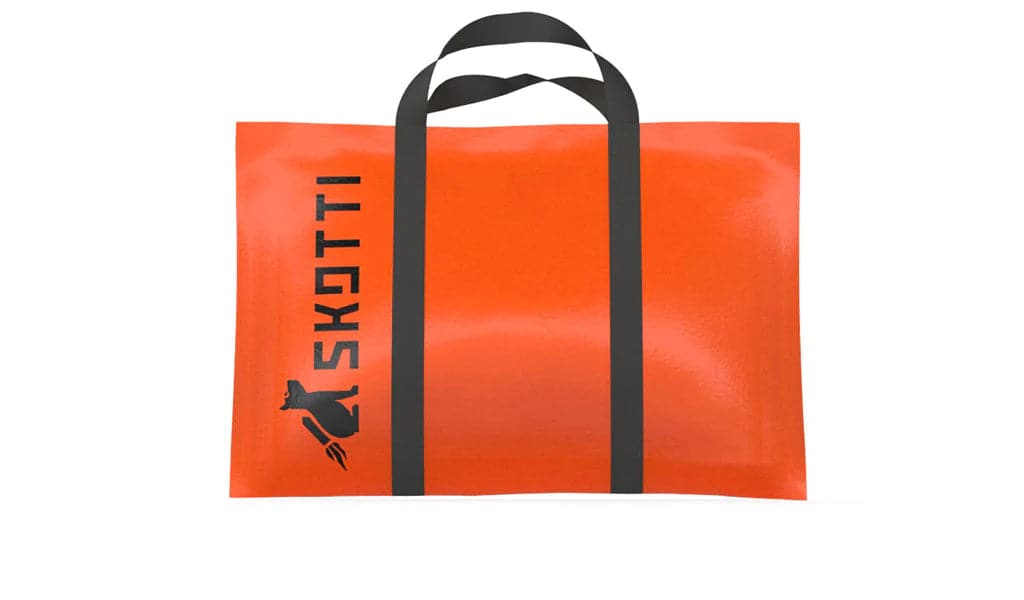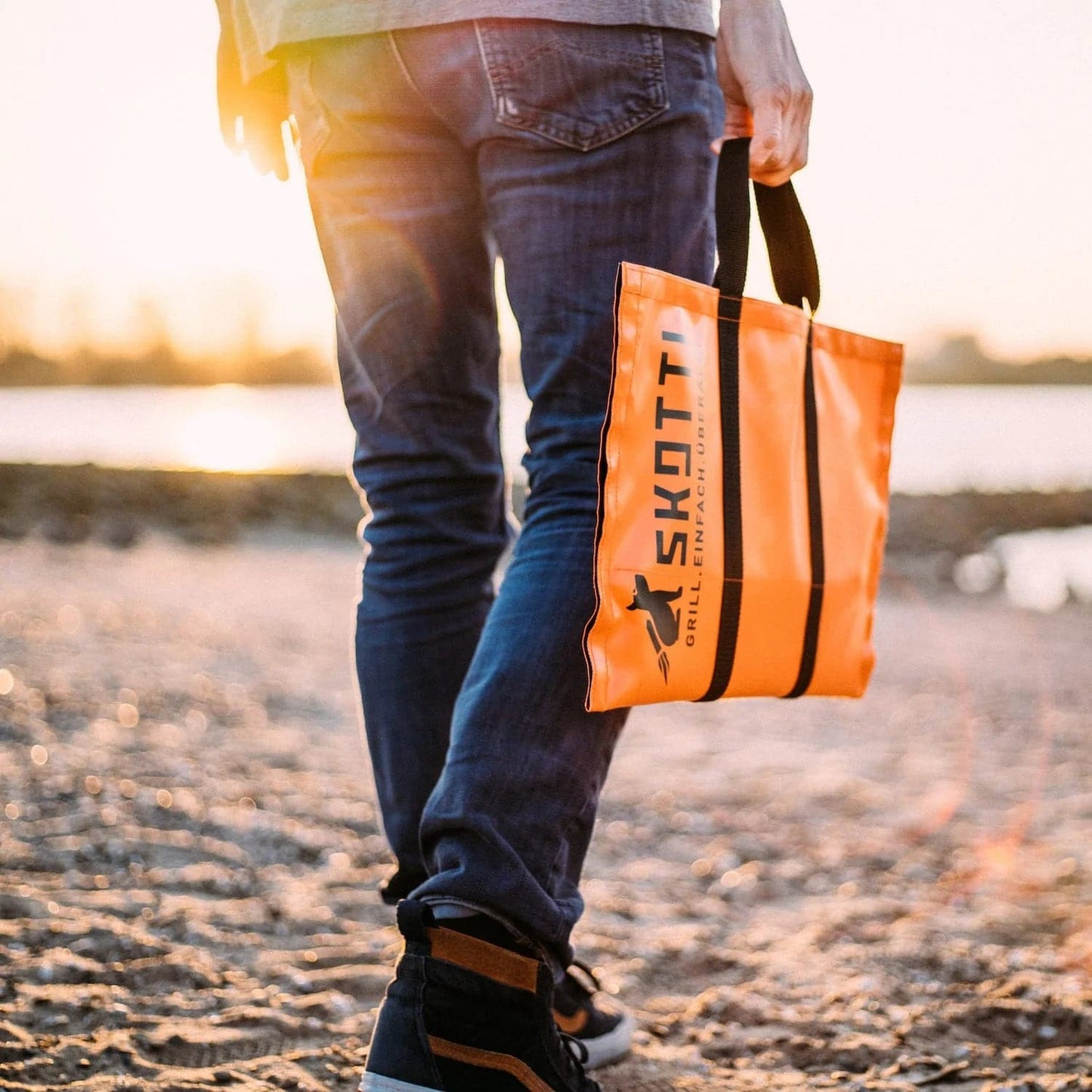 excellent
great products and pricing!!
Skotti grill
Bought this to use while I was overlanding out of my Jeep where space is limited. I could not be happier with it. The grill and cap worked better then I thought. Brought it home and it cleaned up easy with some fine steel wool looks like I never even used it. Some of my friends saw it and are looking to get one for themselves.
Excellent Experience First Time Out
We took this on our overland trip and left the little Webber grill behind. The Skotti performed flawlessly. Hamburgers, Steak, Chicken Tenders and Hobo Packs all came out perfectly. Clean up on the trail was a little hard as we have limited water resources etc. so it was just a quick clean. Once home the Skotti and Bags (yes we purchased the cover as well) went into the dishwasher for a thorough cleaning. Its all clean and ready for the next adventure. Make sure to purchase the cover as well. It helps retain the heat and saves on the gas usage.
Does it all!
I just started using the SKOTTI GRILL, and have found it to be all that I expected.. I have built and taken apart a few times to ensure familiarity. Quality is exceptional.. I can not wait to use more...